Il Menu
de La Taverna di Zucicco al Centro Storico
La Taverna di Zucicco al Centro Storico
Ti presento il menu de La Taverna di Zu Cicco. Insieme al mio primo chef, lo Skett, abbiamo girato in lungo e in largo la Basilicata in cerca delle ricette più antiche, siamo andati a trovare le nonne lucane nelle loro case, muniti di carta e penna. Nascono così i piatti come i Ravioli alla Portaiola, il Baccalà coi Peperoni Cruschi di Senise, il Piatto di Nonno Antonio o la Crapiata di Matera, solo alcune specialità della cucina lucana.
Spero che tu possa apprezzarle come le ho apprezzate io!
Gianpaolo Liberatore
I cibi sottolineati contengono allergeni.
*il prodotto potrebbe essere surgelato
**il prodotto potrebbe essere abbattuto
The underlined foods contain allergens.
* the product could be frozen
** the product could be torn down
CROSTONE ALLA LUCANA
Caciocavallo, baccalà*, peperone crusco, farina di grano tenero, farina di semola
Traditional toasted bread, Caciocavallo cheese, salted cod, Senise crusty sweet peppers
MONTE COCCOVELLO
Pane in carrozza con straccetti di podolica** e grana, prezzemolo, cipolla, basilico, cumino, zafarana
Bread, podolica meat, Grana cheese, parsley, onion, basil, cumin, paprika
IL TAGLIERE DI ZU CICCO (consigliato per 2 persone)
Mix di salumi e formaggi e assaggi del territorio
Zu Cicco's platter with cold cuts, cheese, local tastes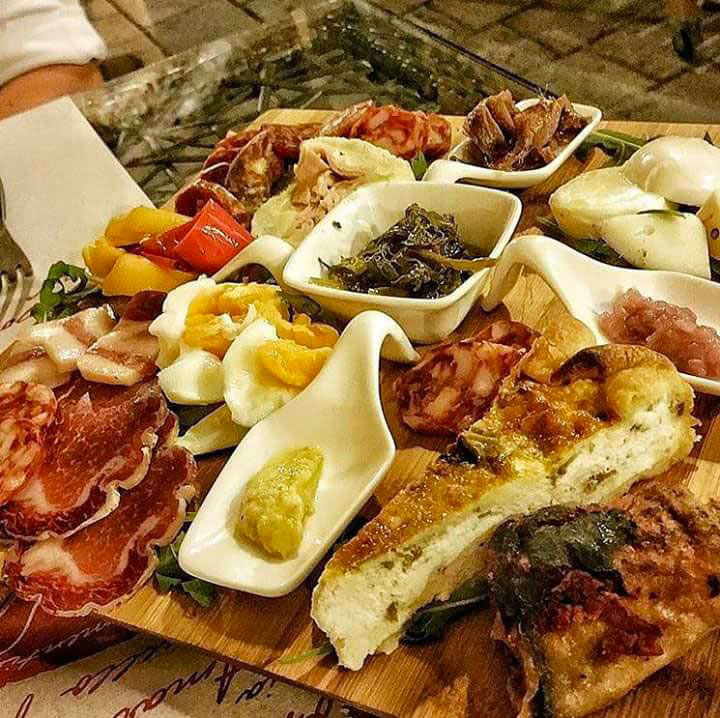 Primi piatti – first courses
CRAPIATA DI MATERA 
Carote, sedano, cipolla, patate, zuppa di fagioli, orzo, fave, lenticchie, farro, piselli
Carrots, celery, onion, potatoes, bean soup, barley, broad beans, lentils , spelt, peas
CAVATELLI AMMULLICATI
Pasta all'uovo (farina, acqua, uova, sale), mollica di pane, alici, colatura di alici, olio, prezzemolo
Egg pasta (flour, water, eggs, salt), breadcrumbs, anchovies, colatura of anchovies, oil, parsley
RAVIOLI ALLA PORTAIOLA
Ravioli all'uovo (farina, acqua, uova, sale) con baccalà*, guanciale e peperoni cruschi
Egg ravioli (flour, water, eggs, salt) with codfish, bacon and crusty peppers
RAVIOLI DI MAMMA ROSA
Ravioli all'uovo (farina, acqua, uova, sale) con ricotta, zucchero, cannella, ragù di maiale (pomodoro, aglio, olio, limone, uova, carne di maiale**)
Egg ravioli (flour, water, eggs, salt) with ricotta, sugar, cinnamon, pork ragout (tomato, garlic, oil, lemon, eggs, pork)
Piatti del territorio – regional dishes
PARMIGIANA DI MELANZANE
Farina di grano tenero, mozzarella, pomodoro, melanzane
Flour, mozarella, tomato, aubergines
CACIOCAVALLO IN PADELLA
Caciocavallo Podolico, peperoncino e rosmarino
Podolico caciocavallo cheese with red hot chili peppers & rosemary
IL PIATTO DI NONNO ANTONIO
Salsiccia, patate*, uovo, peperoni cruschi
Sausage, potatoes, egg, Senise crusty sweet peppers
DUETTO MARATEOTO
Melanzana ripiena (mollica di pane*, salisiccia, caciocavallo Podolico), peperone ripieno (mollica di pane*, acciughe, olive nere di Ferrandina, capperi)
Stuffed eggplant (breadcrumbs, salisiccia, caciocavallo Podolico), stuffed pepper (bread crumbs, anchovies, black olives from Ferrandina, capers)
BACCALÀ
Baccalà* fritto con peperoni cruschi di Senise, farina di grano tenero, farina di semola
Fried cod with Senise crusty peppers, soft wheat flour, semolina flour
BISTECCA DI TONNO
Tonno** scottato con pistacchi e rucola croccante su vellutata di piselli
Tuna steak with pistachios and crunchy rocket on pea velvet sauce
Carni Lucane – regional meets
LUCANICA
Salsiccia suina con zafarana e finocchietto alla piastra
Local roasted sausage
SPIEDO DI ZU CICCO CON CHIPS
Bocconcini di carne locale** con contorno di patate* fritte
Local meat morsels with chips
La carne Podolica – Podolica meet
STRACCETTI PODOLICI
Straccetti di manzo podolico**, farina di grano tenero, latte, riduzione di Aglianico, melanzane, caciocavallo Podolico
Podolica beef, flour, Aglianico sauce, subergines, caciocavallo cheese
BISTECCA PODOLICA
Bistecca di manzo podolico**
Podolica beaf steak
La Razza Podolica deriva da un bovino di grande mole e dalle corna lunghe, che arrivò in Italia a seguito degli Unni da una regione ucraina chiamata appunto Podolia. Oggi è diffusa soprattutto nelle aree interne dell'Italia meridionale; in Basilicata costituisce il 69% dei bovini allevati e il 50% del totale della razza. I manzi e i vitelli sono allevati allo stato brado, si nutrono con latte materno ed erbe spontanee che crescono in alta quota. Nella stagione invernale vivono nelle montagne del materano, mentre d'estate vanno in transumanza sui monti di Rivello, a pochi km da Maratea. La carne podolica lucana di età compresa tra i 10 e i 24 mesi è caratterizzata da un inconfondibile sapore. Il suo caratteristico colore rosso bruno dovuto alla maggiore presenza di mioglobina e ferro, insieme alla ricca presenza di omega 3, le danno un alto valore salutistico.
The Podolica is a primitive Italian cattle breed which came from Ukraine during the Migration Period. It is named after the Ukrainian region of Podolia. Today it is mostly distributed in the southern Italy, the Basilicata preserves the 50% of the Podolica breed and it represents its main cattle breed (69% of the total raised in the region). Steers and veals are breed in the wild, they drink breast milk and eat grass. During the winter they live on the mountains surrounding Matera, while in the summer they move to the mounts of Rivello, just a few kilometres from Maratea. The Podolica meat of Basilicata that is between 10 and 24 months has unique taste. It is characterized by a dark red colour due to a strong presence of Myoglobin, Iron and Omega 3, which make it a healthy food.
PATATE* CONTADINE FRITTE
Homemade chips
CIAMBOTTA
Patate*, peperoni, melanzane, aglio (aroma)
Potatoes, pepper, aubergine, garlic flavouring
ZUCCHINE ALLA SCAPECE
Zucchine, aceto, menta, olio
Zucchini, vinegar, mint, olive oil
VERDURE GRIGLIATE
In base alla disponibilità
Grilled vegetables
PATATE* E PEPERONI CRUSCHI
Potatoes and Senise crusty sweet peppers
GNOCCHI DI PATATE AL SUGO
Gnocchi (farina di grano tenero, patate), pomodoro
Gnocchi (soft wheat flour, potatoes), tomato
HAMBURGER* DI MANZO CON PATATE
Hamburger and roasted potatoes
COTOLETTA* DI POLLO CON PATATE
Chicken cutlet with potatoes
ZUPPOTTO
Pan di spagna al cioccolato, noci, pistacchi, panna, caramello e cioccolato
Chocolate sponge cake, walnuts, pistachios, caramel cream and chocolate
DOLCE CRUSCO
Peperone crusco, crema pasticcera (uova, fecola di patate) al limone, miele, zucchero, caramello
Crusty pepper, lemon custard, honey, sugar, caramel
PARMIGIANA DOLCE
Melanzane, ricotta di Massa, arancia candita, cioccolato
Aubergine, ricotta, candied orange, chocolate
PANNA COTTA AL BASILICO CON POMODORINI CONFIT
Latte, panna, basilico, colla di pesce, pomodorini
Milk, cream, basil, gelatine, cherry tomatoes